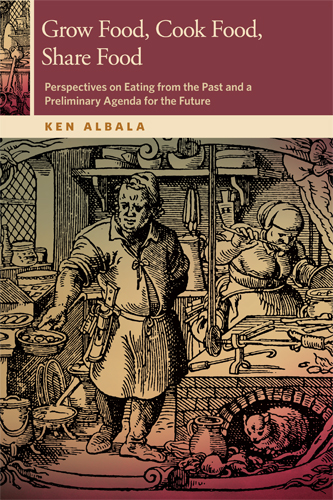 Paper pub. date
October 2013
ISBN 9780870717185 (paperback)
5.5 x 9 inches, 96 pages. Notes. Index.
Grow Food, Cook Food, Share Food
Perspectives on Eating from the Past and a Preliminary Agenda for the Future
Ken Albala
Grow Food, Cook Food, Share Food is a practical food history lesson, an editorial on our use of packaged convenience foods, and a call to arms—of the kitchen variety. Mixing food writing and history, adding a dash of cookbook, author and scholar Ken Albala shares the story of what happened when he started taking food history seriously and embarked on a mission to grow, cook, and share food in the ways that people did in the past.
Albala considers what the traditions we have needlessly lost have to offer us today: a serious appreciation for the generative power of the earth, the great pleasures of cooking food, and the joy of sharing food with family, friends, and even strangers. In Albala's compelling book, obscure seventeenth-century Italian farmer-nobles, Roman statesmen, and quirky cheesemakers from the fifteenth and sixteenth centuries all offer lessons about our relationship with the food we eat.
A rare form of historical activism, Grow Food, Cook Food, Share Food is written for anyone who likes to eat, loves to cook, and knows how to throw a great dinner party.
About the author
Ken Albala is Professor of History at the University of the Pacific and author or editor of sixteen books, including Eating Right in the Renaissance, The Banquet, and Beans: A History (2008 IACP Jane Grigson Award). Albala edited the Food Cultures Around the World series, the 4-volume Food Cultures of the World Encyclopedia, and is now series editor of AltaMira Studies in Food and Gastronomy, for which he wrote Three World Cuisines: Italian, Mexican, Chinese (Gourmand World Cookbook Awards best foreign cuisine book, U.S.). Albala also co-edits the journal Food Culture and Society and has co-authored two cookbooks: The Lost Art of Real Cooking and The Lost Arts of Hearth and Home. He lives in Stockton, California.
Read more about this author