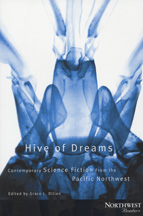 Paper pub. date
January 2003
ISBN 9780870715556 (paperback)
6 x 9 inches, 288 pages. Notes.
Hive of Dreams
Contemporary Science Fiction from the Pacific Northwest
Grace L. Dillon
Hive of Dreams brings together for the first time the work of a dozen internationally prominent science fiction writers who make their home in the Pacific Northwest.
Editor Grace L. Dillon's informative introduction shows how the region's culture, economy, and natural environment are reflected in the work of these different authors. Exploring tensions between our increasing affinity with technology and traditional concerns with environmental sustainability, the works presented here demonstrate the spirit that makes Northwest science fiction distinctive.
Hive of Dreams begins in the forests and mountains of the Northwest with Ursula Le Guin's "The Good Trip" and ends in the cities and multinational conglomerates of the Pacific Rim with William Gibson's Idoru. In the space between, readers will encounter writings by such notable authors as Greg Bear, Octavia Butler, Ted Chiang, Michael G. Coney, Douglas Coupland, Molly Gloss, Richard Powers, Joanna Russ, Neal Stephenson, and John Varley. Together, these selections clearly establish the unique signature of Northwest writers within the broader world and traditions of science fiction.
About the author
Grace L. Dillon teaches University Studies and English at Portland State University and has published articles on science fiction, popular culture, and early modern literature in a number of books and journals.
Read more about this author
Introduction
Part One
Ursula K. Le Guin, "The Good Trip"
Joanna Russ, from The Female Man
Michael G. Coney, "The Byrds"
Octavia Butler, from The Parable of the Sower
Molly Gloss, from The Dazzle of Day
Ted Chiang, "Story of Your Life"
Ursula K. Le Guin, "The Rock That Changed Things"
Part Two
William Gibson, from Neuromancer
John Varley, from Steel Beach
Douglas Coupland, from Microserfs
Neal Stephenson, from The Diamond Age
Greg Bear, from / Slant
Richard powers, from Plowing the Dark
William Gibson, from Idoru
Acknowledgments