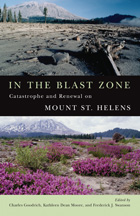 Paper pub. date
January 2008
ISBN 9780870711985 (paperback)
ISBN 9780870710605 (ebook)
5-1/2 x 8-1/2 inches, 128 pages. Map. Line drawings. Bibliography.
In the Blast Zone
Catastrophe and Renewal on Mount St. Helens
Kathleen Dean Moore
,
Frederick J. Swanson
, and
Charles Goodrich
As it erupted in 1980, Mount St. Helens captured the attention of the region, nation, and world, and it continues to fascinate us today: a constant reminder that we live in volcano country. In lucid prose and poetry by some of America's leading writers and scientists, In the Blast Zone explores this story of destruction and renewal in all its human, geological, and ecological dimensions.
Most popular accounts of the momentous eruption have focused on the devastation it caused. More recent scientific work on Mount St. Helens tells a story of unexpectedly rapid and varied ecological and geological change. In the Blast Zone is the first book to present a cross-pollination of literary and scientific perspectives on the mountain's history of cataclysm and renewal.
Most of the contributors to this volume camped together on Mount St. Helens for four days, hiking, observing, and sharing ideas. They asked the question: What can this radically altered landscape tell us about nature and how to live our lives? In the Blast Zone collects some of their answers. While introducing ecological and geological insights, it also tells compelling stories about how science and literature inform our lives and our relationship to nature. These writings will startle readers with new recognition of the matchless gifts of Mount St. Helens: the gifts of beauty, of illumination, of hope.
The Contributors
Gary Braasch, John Calderazzo, Christine Colasurdo, Charlie Crisafulli, John Daniel, Jerry Franklin, Charles Goodrich, Robin Kimmerer, Ursula K. LeGuin, Tim McNulty, Kathleen Dean Moore, Nalini Nadkarni, Robert Michael Pyle, Scott Russell Sanders, James Sedell, Gary Snyder, Kim Stafford, Frederick J. Swanson, Tony Vogt, Ann Zwinger, Susan Zwinger
About the author
Kathleen Dean Moore, PhD, is a moral philosopher, environmental activist, and award-winning author or editor of a dozen books, including Moral Ground and Great Tide Rising. Her growing alarm at the devastation of nature led her to leave her longtime position as Distinguished Professor of Environmental Philosophy at Oregon State University to write and speak about the moral urgency of climate action. She writes from Corvallis, Oregon, and Chichagof Island, Alaska.
Read more about this author
Frederick J. Swanson is a Research Geologist with the USDA Forest Service, Pacific Northwest Research Station, in Corvallis, Oregon. He is co-editor of Ecological Responses to the 1980 Eruption of Mount St. Helens and has spent his career working on interactions of geological and ecological forces in mountain lands.
Read more about this author
Charles Goodrich is Program Director of the Spring Creek Project for Ideas, Nature, and the Written Word at Oregon State University and the author of The Practice of Home: Biography of a House.
Read more about this author
"One comes away from reading this book with a powerfully transformed view of Mount St. Helens and volcanoes in general, carrying in one's imagination ideas of green moss and blue butterflies, birdsong and wind, ideas that have now begun to complicate the image of St. Helens as a stark post-eruption moonscape… This is an extremely hopeful work, one that suggests the fundamental durability of nature."
--Scott Slovic (from the Foreword)